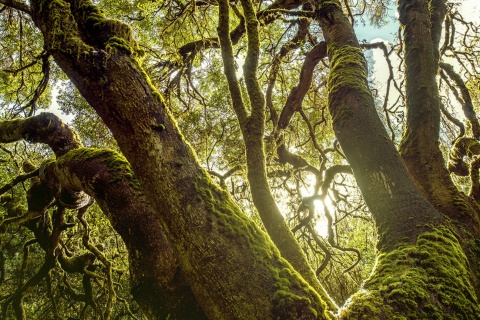 Garajonay National Park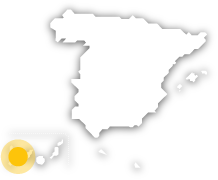 parque-nacional-garajonay
Bewitching Canary Island forests
---
The Garajonay National Park awaits you on the Canary Island of La Gomera. Cleaved through by gorges and packed with laurel forests. This pre-historic forest is responsible for the labyrinth of green that you immerse yourself in as you enter the park. A fascinating landscape that will bewitch you like a fairytale, where nature is the main feature.
Garajonay National Park
---
In La Gomera, part of the Canary Islands.
La Gomera (Canary Islands)
La Gomera (Canary Islands):
Useful information
What you need to know
---
What you will find

Garajonay is a paradise for lovers of ecotourism. Mild temperatures and high humidity encourage an almost magical micro-climate. Its plant life is extremely diverse, with laurel forests and large expanses of fire trees and heather. Among them are the many animal species that populate the park, in particular invertebrates. More than 1,000 species that, thanks to their isolation, include a large proportion that can only be found on La Gomera.But it's not just vast forests. There are also impressive rock formations. Due to erosion of the volcanic rock, there are several striking rock formations dotted around the landscape of La Gomera, including Los Roques. Alto de Garajonay is the highest point, at an altitude of 1,457 metres, with commanding views across the whole island.

Routes around the Park

The park's many forests are easy to explore. There are 18 routes of varying difficulty, although the majority are short and easily accessible. You can download an audio guide provided by the park if you decide to visit without a guide. It will teach you about the history and ecosystem surrounding you.  If you prefer guided tours, they are free of charge, every Friday throughout the year. During the summer they are often also available on Wednesdays.Map of Garajonay National Park

Don't leave without...

Hearing the local whistled language, the silbo Gomero. This particular language system was historically used by inhabitants of the island to communicate across the valleys. Currently, more than 22,000 people "speak" it fluently and it is considered the only whistled language in the world. While you are here on La Gomera, why not find out more about this UNESCO World Heritage tradition.September brings the Jornadas Colombinas festival in San Sebastián de La Gomera. The festival commemorates Christopher Columbus' first journey to America, and fills the island's capital with music, food tasting, dancing and exhibitions. Each year, one Latin American country also participates, uniting the two shores of the Atlantic for a full week.After your adventures, you can round off the experience by bathing in the sea at Playa del Inglés in the town of Valle Gran Rey. Let the black volcanic sands and their tranquil waters transport you to an unforgettable memory of your stay at La Gomera.