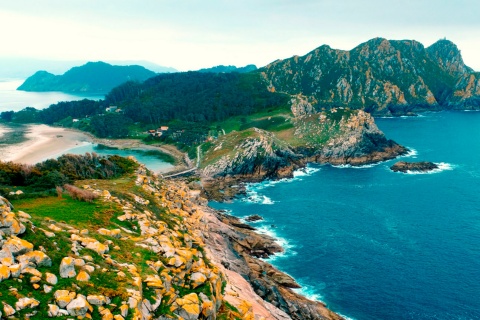 Atlantic Islands of Galicia Maritime-Terrestrial National Park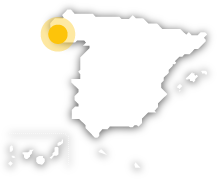 parque-nacional-maritimo-terrestre-islas-atlanticas-galicia
A delight formed by water
---
Shared with the Galician provinces of A Coruña and Pontevedra, in the extreme north-east of Spain, this national park in the heart of the Rías Baixas awaits you. A unique ecosystem, teeming with marine and terrestrial life has been created in this place, where fresh and salt water converge. Endless beaches with fine sand and almost-clear blue water will draw you into this paradise on earth known as the Atlantic Islands.
Atlantic Islands of Galicia Maritime-Terrestrial National Park
---
It is made up of the archipelagos of Cíes, Ons and Cortegada (in Pontevedra) and of Sálvora (in A Coruña). All the islands are situated in Galicia, in north-western Spain.
Pontevedra (Galicia)
A Coruña (Galicia)
Rúa Palma, 4. Casco Viejo-Vigo
36202 Vigo, Pontevedra (Galicia)
Tel.:
+34 886 218 082
Website:
Visitor centre website
Useful information
What you need to know
---
What you will find

Four small archipelagos form this idyllic landscape, where there is hardly a human in sight. Formed by the interaction of the estuaries with the Atlantic ocean, the islands of Cíes, Ons, Cortegada and Sálvora have developed a unique biodiversity on their sea shores. The lovely waters lapping the shore are home to dozens of species of animals. These act as lures to the numerous birds, such as the yellow-legged gulls and the Mediterranean shag, which frequent the enormous sandbanks extending for kilometres along the islands. This fascinating, magical place includes attractions like Rodas beach and the cove at Margaridas, as well as the Ons sea caves, called "furnas" in Galician.

Routes around the Park

During high season (summer, Easter Week, and the weekends in May), numerous boats travel to the islands from Baiona, Nigrán and Vigo. You are allowed to charter and dock private boats, as long as you get the relevant permits from the park authorities.Once on dry land, there are various well-marked routes around the islands. Cíes and Ons both have four routes. Two more await you on both Cortegada and Sálvora. All the routes are accessible and do not include many height differences, so should not be demanding for travellers.Map of Islas Atlánticas National Park in Galicia

Don't leave without...

Discover the views from Monte Faro, the highest point on the Cíes Islands. A sensational 360° panorama unfolds before your eyes as you delight in this impressive view of the Vigo estuary.Good eating is one of the pillars of Galician culture and the Atlantic Islands are no exception. If you visit Ons Island, enjoy a feast based on the local speciality pulpo a illa; it's worth a visit here for this alone.If you come in March, don't forget to stop at Bayona, which celebrates one of its most famous festivals at this time: La Arribada. This celebration commemorates Christopher Columbus' return to Europe after discovering the Americas. For several days, the town is adorned in a medieval style and there are dances, craftwork displays and events.
What to do
Travel plans for inspiring you
---