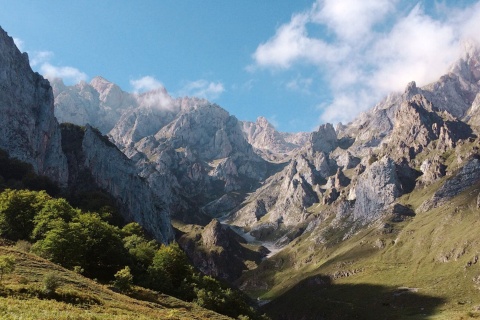 Picos de Europa National Park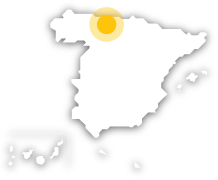 parque-nacional-picos-europa
The mountains and forests of the brown bear
---
Spread across the provinces of Asturias, Cantabria and León, the Picos de Europa National Park is a perfect example of an Atlantic ecosystem. Packed with oak and beech groves, the park takes its name from the impressive rock formations here. It is also home to two of the most emblematic animals to live in Spain: the brown bear and the Iberian wolf... but there is more than that.
What to do
The must-sees of Picos de Europa
---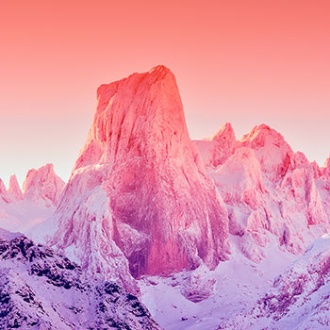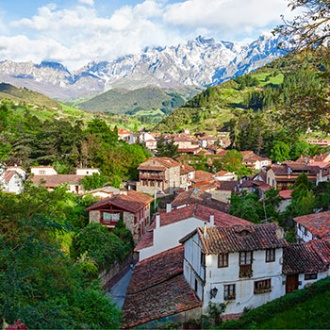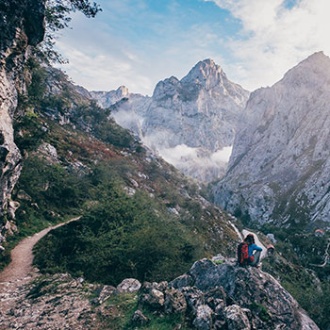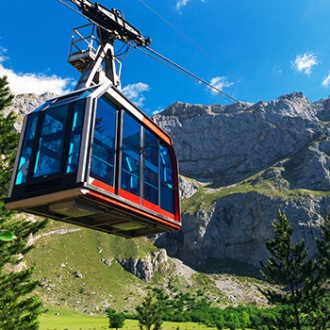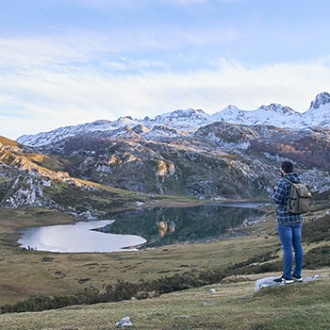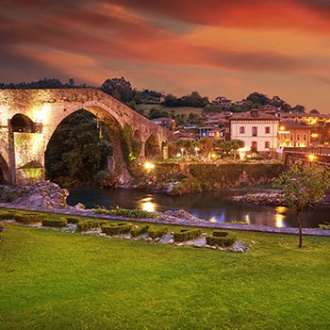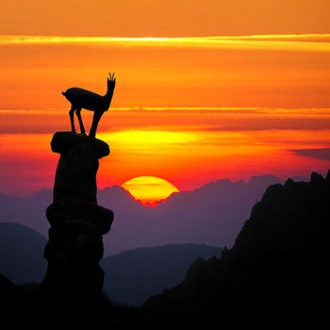 Viewing point at Tombo, Posada de Valdeón
Picos de Europa National Park
---
Straddling the regions of Asturias, Cantabria and León, in the heart of the Cantabrian Mountains, in northern Spain.
León (Castilla y Leon)
Cantabria
Principality of Asturias
Asturias (Principality of Asturias):
Amieva
Onís
Cabrales
Peñamellera Alta
Peñamellera Baja

Cantabria (Cantabria):

Camaleño
Cillorigo de Liébana
Tresviso

León (Castilla y Leon):

Oseja de Sajambre
Posada de Valdeón
Useful information
What you need to know
---
What you will find

Spread across 11 villages, Picos de Europa is Spain's only inhabited nature reserve, offering travellers a unique experience. Rural life and nature have co-existed in this unique environment for centuries. For example, more than half of the vertebrates that exist on the Iberian Peninsular can be found here, spread across their numerous territories. Meadows, lakes, mountains such as the Naranjo de Bulnes, gorges, and impressive forests host the park's inhabitants. Large mammals, like roe deer and chamois share territory with grouse and Egyptian vultures; just a small sample of the numerous bird life that can be found here.

Routes around the Park

The park is accessible by car and, once you're there, you'll find more than 30 self-guided routes. There are also three visitor centres where you can find information and decide the best way to explore the Picos de Europa. Free guided tours are available from July to September in the three provinces forming the park. There are also 17 viewpoints throughout the area, where you can fall in love with the spectacular scenery that awaits you.Map of Picos de Europa National Park

Don't leave without...

The Real Sitio de Covadonga is in Cangas de Onís. This religious complex contains the Holy Cave and the Basilica, which commemorate the battle of Covadonga in the year 722. These lands witnessed the beginnings of the Kingdom of Asturias, the first steps of the Reconquest; it is steeped in history.Before leaving, you must try the delicious local dishes. Special mention goes to the blue cheeses, like Cabrales, Bejes-Tresviso and Valdeón. Other dishes worth making a trip to one of the local restaurants for are the classic Asturian fabada, red meat dishes, and the famous pitu de caleya, a local breed of chicken.
What to do
Travel plans for inspiring you
---