Sierra Nevada National Park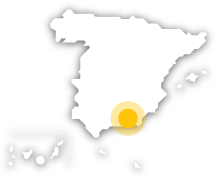 parque-nacional-sierra-nevada
High mountains and exuberant nature in the heart of Andalusia
---
In eastern Andalusia in Granada and Almería you'll find the highest peaks in continental Spain. Its mountains, rivers and streams extend for 90 kilometres, bringing abundant life to the region. Populated for more than 2,000 years, the Sierra Nevada is the perfect place for witnessing humans and wildlife co-existing in the high mountains.
Sierra Nevada National Park
---
The park is in the Andalusian provinces of Almería and Granada, in southern Spain.
Almería (Andalusia)
Granada (Andalusia)
Almería (Andalusia):
Abla
Abrucena
Alboloduy
Bayárcal
Beires
Canjáyar
Fiñana
Fondón
Nacimiento
Ohanes
Paterna del Río
Rágol
Tres Villas, Las

Granada (Andalusia):

Aldeire
Alpujarra de la Sierra
Bérchules
Bubión
Busquístar
Cáñar
Dílar
Dólar
Dúrcal
Ferreira
Huéneja
Güejar Sierra
Jerez del Marquesado
Juviles
Lanteira
Taha, La
Zubia, La
Lecrín
Nigüelas
Pórtugos
Válor
Nevada
Soportújar
Useful information
What you need to know
---
What you will find

More than 15 mountains with an altitude of over 3,000 metres, including Mount Mulhacén, the highest peak in the Iberian Peninsula, welcome you to Sierra Nevada. Rivers, streams and springs pop up all over the park, creating the different climate zones that exist here. On the lower levels you will discover lush meadows which give way to holm oaks and pine groves the further you ascend, extending all the way to an altitude of more than 2,000 metres. Higher up, as you reach the solitary summits, only the shrubs and scrubland can withstand the battering of the inclement weather, where the wind, water and cold have created their own ecosystem.All this flora provides the perfect habitat for the local fauna to shelter and feed. This is the territory of mountain goats and wild boar, and smaller animals like badgers and civets. There are also many species of bird life in the region, such as golden eagles, skylarks, and griffon vultures. And completing the ecosystem, you'll find a multitude of insects, many of which can only be found in this park.

Routes around the Park

The best way of touring the Sierra Nevada is on foot because there are numerous paths and routes. There are 25 official footpaths signposted according to their varying length and difficulty. Cycling aficionados also have 13 routes especially designed for them, so the only thing you have to decide is how you would prefer to explore Sierra Nevada. But before you go it is best to double check which paths are most suited to your abilities, as they cover different altitudes and distances. It is recommended that you arrive by car, so that you can easily travel between the different villages around and within the park. Map of Sierra Nevada National Park

Don't leave without...

Exploring the Alpujarra. The harsh conditions in the high mountains here have moulded the way of life for its inhabitants for centuries. Despite this, the Alpujarra locals found fertile land and abundant water to make it a very productive region. Nestled between the many springs and gorges you will come across beautiful villages, such as Barranco del Poqueira. Located between the villages of Bubión, Capileira and Pampaneira, the panoramic view across the valley is one of the most impressive postcard scenes of the Sierra Nevada.If you travel here in winter, it's a great chance to ski or enjoy the snow in the park. More than 100km of pistes, where you can even see as far as Morocco on a clear day, are waiting for you. All this combined with the Andalusian sun and light.This area has also borne witness to the passing of many cultures, including Judaism, Islam and Christianity, and there are many historical relics to discover. Soak up the history in iconic places such as Puente de Tablate, the gateway to the Alpujarra region, or Lanjarón castle at the top of an imposing hill that dominates the whole valley and takes you on an authentic journey back in time.
What to do
Travel plans for inspiring you
---