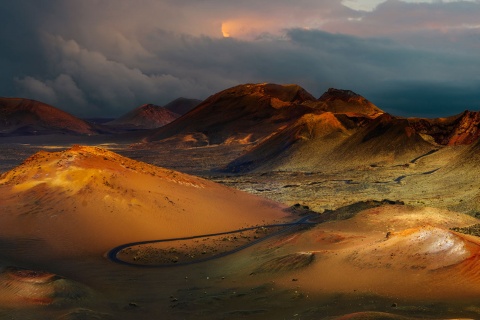 Timanfaya National Park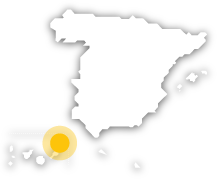 parque-nacional-timanfaya
The land of fire and volcanoes
---
In Lanzarote, the most easterly of the Canary Islands, Timanfaya National Park dazzles its visitors. Its landscape seems as though it belongs on the moon; the result of volcanic eruptions from as recently as 300 years ago. Lava and magma have created a scene straight out of science fiction where, despite its severity, life continues to bloom. Strange rock and land formations tinged with red, yellow and orange await, making this a place you'll never forget.
Timanfaya National Park
---
On the island of Lanzarote (Canary Islands).
Lanzarote (Canary Islands)
Useful information
What you need to know
---
What you will find

Timanfaya is the only one of Spain's 15 national parks with a geological nature. Its rarity lies in the fact that the lava casts have created an ecosystem dominated by the most varied land formations you could imagine. Tiny craters, hollows and tubes burst everywhere, creating landscapes that seem to be part of another planet. In contrast to other national parks on the Canary Islands, the vegetation in Timanfaya is not known for its exuberance. However, there are many lichens, representing the triumph of nature even over environments as hostile as this.Lastly, make sure that you tour the underground galleries formed by erosion, deep in the belly of Timanfaya. One of the best examples is the Cueva de los Naturalistas. More than one and a half kilometres long, and formed by the direction of lava flow, it offers visitors a really impressive insight.

Routes around the Park

Three routes cross Timanfaya.  One is a guided tour on the popular Canary Island bus: the circular 14km Volcanoes Route. The other two options are on foot. The first is the Coastal Route (self-guided, 9km and physically challenging). The second is the Tremesana Route, a guided 4km walk, easily accessible, and led every Monday, Tuesday, Thursday and Friday. There is also the option of taking a 20 minute camel ride within the park.Map of Timanfaya National Park

Don't leave without...

Despite the rugged terrain, some areas of Lanzarote are very fertile. They are used for farming, particularly for fruit, potatoes and vines. Enjoy the island's delicious cuisine and the splendid local wines.You can also discover the artistic legacy of César Manrique. Born in Lanzarote, he was an expert at combining nature with his creations. As a demonstration of this, we have the Jameos del Agua, a volcanic formation that has been adapted to become an art and culture centre. Or the Taro de Tahíche, the artist's former house, made out of lava bubbles and containing part of Manrique's own collections.
What to do
Travel plans for inspiring you
---